Transform Customer Relationships
Your customers expect more from a modern retail experience. More versatility. More convenience. Speed Queen Insights lets you meet—and exceed—their expectations with the Speed Queen Customer App.
Speed Queen® InsightsCreate a Best-in-class Experience
The Speed Queen Customer App lets your customers pay with the one thing they never leave home without—their smartphone. The easy-to-use app is fully integrated with your Speed Queen washers and dryers, so there are no additional card readers to install and maintain. Using the app on their smartphone, your customers also can:
Load their online wallet with cash and cashless options
Pay for machines
Monitor wash and dry cycle status and time remaining
Receive a notification when their cycle is finished
The Speed Queen Value Center will help you further
stand out from the competition

by letting customers load cash onto their Speed Queen app.

See it in action.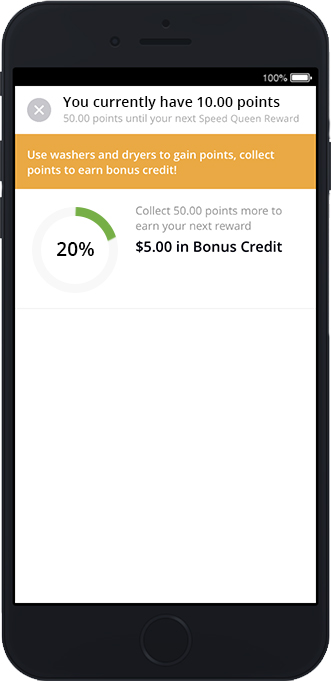 Speed Queen® InsightsSpeed Queen Rewards
By offering Speed Queen Rewards, you'll increase store loyalty and encourage repeat business.
The rewards program allows for points on every purchase, by time of day, by machine capacity, or when they load a certain amount of money onto the app, giving customers a reason to visit your store every laundry day.
Pro Tip
Enable the Customer Relationship Management tool to communicate with your customers about specials, opportunities to earn rewards and more.
The Customer App is included in the Payment Package.
See our Comparison Chart for details.
Download our Customer App Brochure
See how Speed Queen works in the real world—in real time
Let us know how we can help.